Staying Connected with the Ones that Matter Most
Family is everything to me! I have been married to my beautiful wife, Jessica for 13 years and we have a little 3 years old girl, Sydney Rose. These ladies are my everything!! My work often has me travelling often and this causes me to be separated for my family for days, sometimes longer. Being able to stay connected with them is the most important thing to me. Whether it is watching Jessica's snap chat of our daughter do her latest ballet move, seeing her latest Instagram or being able to jump on FaceTime for a quick 'hello', I need to see my family.
So, as I travelled across 6 provinces for this Rogers Campaign, it would mean saying goodbye to my family for 18 days. I would embark on my journey to photograph stunning and majestic locations in Canada, going to remote areas tucked away from the hustle and bustle of the city life. As beautiful as these spaces were they needed to fill with great families. We wanted to capture these areas not only for their natural elements but for the ways they could be enjoyed by others. We want to encourage people to get out and see the world around them!
Part of my job in this project was to find families in the regions where we would be shooting. We wanted to find families that lived near these remote regions and truly enjoyed the outdoors. I asked the families what activities they loved to do the most, as I wanted them to do what they naturally loved and enjoyed, whether it be snowshoeing, sledding or ice-skating. Capturing these moments in the most authentic way was of highest important to us. We wanted to show that families could explore and enjoy the great outdoors while staying connected to any loved ones at home.
Upon finding great families to be involved, I had spent lots of time connecting with them via email, phone and text. I would walk these people through the photo shoots explaining that we would be capturing them doing what they love as a family. These were not actors but everyday families who lived and grew up in these areas. To me this was so important. To be able to show the imagery of these landscapes and capture its people enjoying it brought the campaign to life!
In Alberta, we met up with a family at Lake Louise, all bundled up for a great morning of ice-skating. We skated as long as we could, but the winter chill was more than what we had bargained for so we were able to warm up after with some hot chocolate and a hot lunch! It was probably my fault they got so cold. I told them they looked amazing ice-skating! "Can you do one more round", I would shout. You can see below that this beautiful family was skating with a pretty epic background!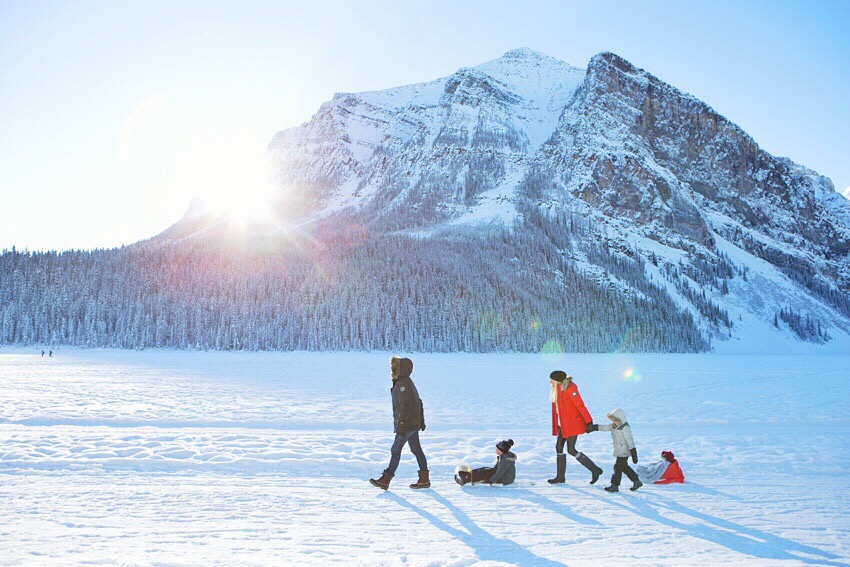 After their time ice-skating, the family took a quick break from the cold as they ran inside to warm up. During this time, I waited outside only to have my phone ring. It was my mother-in-law and we all know that when she calls, you answer! It was nice to be able to have a quick chat in the middle of the Rocky Mountains in beautiful Lake Louise. Just another way I was still connected to my family, even while working.
In the Maritimes, we had the privilege of working with 4 amazing families. Our first family on the east coast was excited to show us around their beautiful province of New Brunswick and I don't blame them, it was beautiful! We awoke at 5:30am to travel down to the stunning area of Hopewell Rocks. The father of this family is a motivational speaker who travels and speaks to youth and sports teams about excelling in life. As we were shooting in an area with Rogers' coverage, he was able to participate in the shoot while still being accessible to his clients. He was amazing to have on the shores at Hopewell Rocks as he kept us all inspired with his upbeat attitude about life! The whole family braved a chilly morning on the east coast but the result was well worth it! Take a look at some of these images below that we captured at sunrise on the Atlantic.
Capturing these Canadian families in majestic places was an unforgettable experience. However, no project would be complete without great communication. Travelling from place to place in separate vehicles can be challenging, especially if you lose each other. Coordinating schedules and meeting up with each other can be challenging in the best of times. Thankfully, we had access to each other in these remote areas and that made all the difference for the success of this project.
Spending this time with these incredible families only made me miss mine even more. They say absence makes the heart grow fonder, and it is certainly true. However, I am grateful that any time I am far away working, I am never more than just a phone call away.
scott bakken
An entrepreneur, creator, father & husband from Calgary, Scott Bakken is inspiring a generation of creatives to live their best life.